Dark Age 2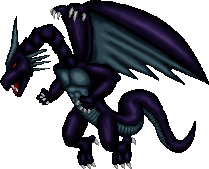 Dark Age 2 is a medieval fantasy role playing game created with the RPG Toolkit filled with wizards, dragons, kings, castles, ogres, and the like. Unlike its predecessor, Dark Age 2 does not contain elements ripped from professional games, but rather is a completely original work including graphics, music, and programming. All of the game's internal systems are custom, including the battle system, menu, and shops.
The full game, worth somewhere between 20 and 25 hours of gameplay, is now available to download for free. CDs used to be available, but are sold out.
Screen Shots | Sprites | Music | Story | Gameplay | Battle System | Card Game | Walkthrough | FAQ
File
Description
Size
The complete Dark Age 2, once available only by CD, now up for download! This is an updated build, so no additional patches are required.
143 MB
The old "free demo" version of Dark Age 2, containing roughly the first five or six hours of the game. MP3s have been replaced with either their MIDI counterparts or low quality MP3s. Recommended for dail-up users. If you just want to try out DA2, this is the one to get. You can always upgrade later without losing your save data.
13.2 MB
Fixes / Upgrades
Dark Age 2 DLL
Alternate actkrt2.dll


*Recommended*

This is recommended for modern computer systems, as the old actkrt2.dll was more geared for computers with less RAM. If DA2 runs slowly for you, this might speed things up a bit.
69 KB
Dark Age 2 Upgrade
Full Vers. upgrade (v1.1)

*CD owners only* A few bug fixes and some extras are added to Dark Age 2 in this patch, including a small side quest that is not available in v1.0. If you own an older CD, get this now! Not necessary if you downloaded the full install above.

Upgrades from v1.0 to v1.1. Full version owners only, won't expand demos. Special thanks go out to KSNiloc for the installer!

738 KB
Minor Dark Age 2 Patch (v1.11)
*CD owners only* Two minor fixes that were missed in the above upgrade. Of interest only to full version owners. Upgrades from v1.1 to v1.11. Not necessary if you downloaded the full install above.
12 KB
Minor Dark Age 2 Patch (v1.12)
*CD owners only* If you bought a CD before June 2006, some more minor issues are addressed in this patch. Upgrades from v1.11 to v1.12. Not necessary if you downloaded the full install above.
8 KB
CD Extras
This is the extra content on the CD that was originally only available to those who purchased it. Enjoy!
7 MB
Dark Age 2 is for Windows only and has been tested on all versions from ME to 7. I'd recommend at least 128 MB of RAM. The full version requires about 177 MB of disk space.